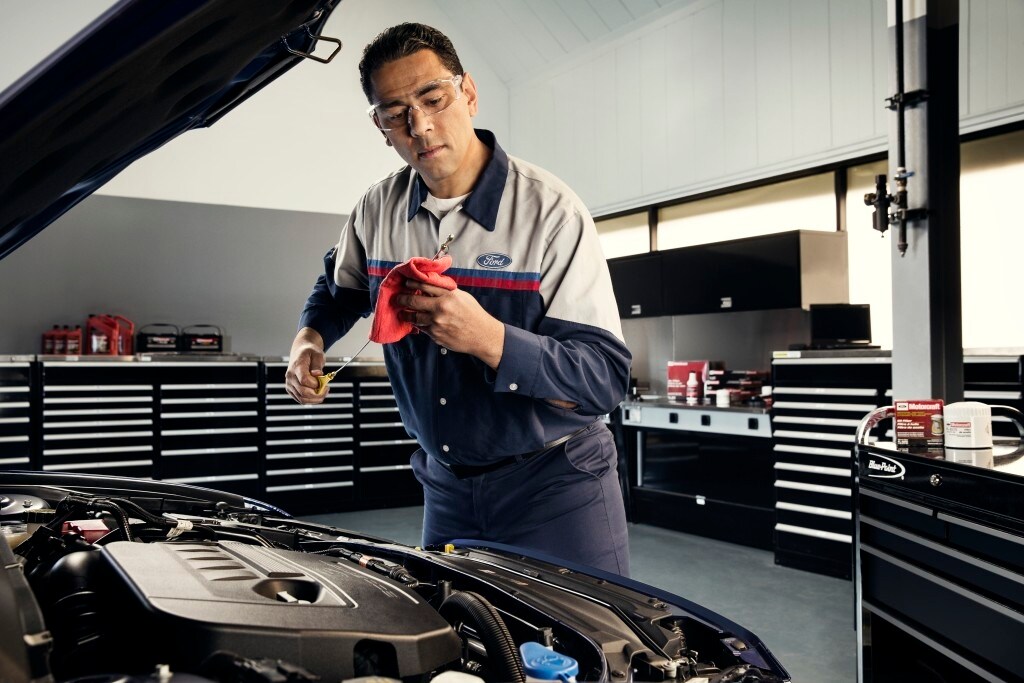 Schedule Your Service in Brooklyn
Give your new Ford the attention it needs to keep performing the way it should with regular maintenance that focuses on areas where problems begin, like uneven tire wear, dirty oil, and depleted brake pads. Just a little maintenance at the right time can avoid future costly repairs or breakdowns for our Brooklyn Heights area clients.
Oil Changes
Engines perform at their most efficient the cleaner their oil is. As road dust, ambient moisture, and engine grime become embedded in your oil, it causes your engine to have to work harder just to maintain a baseline performance. This causes your engine to get hotter and expend more fuel than it otherwise would. Clean oil can save you money on gas over time while extending the life of your engine. Engine inspections can also check for worn hoses, belts or gaskets.
Brakes and Tire Service
Your brake pad wear rate is difficult to predict; if you transition from clear freeway driving to a stop and go pattern for your daily commute, you'll notice that your brakes wear down more frequently. Be attentive to their noises so you can differentiate between a normal squeak caused by brake dust and the louder screech coming from worn brake pads. Your tires will benefit from regular rotations to avoid wearing thin in certain areas that place them at hazard for a flat. Crown Heights drivers can also regularly check their pressure and tread level to ensure they stay within safe limits.
Schedule Your Service Today Near Cobble Hill
At Premier Ford of Bayridge, serving Sheepshead Bay, we'll focus on your Ford's care with technicians that specialize in Ford maintenance and OEM parts that come straight from the manufacturer. We utilize the correct oil for your vehicle's engine and provide tire care in line with manufacturer recommendations so you can trust that your vehicle will always receive the finest care whenever you visit. Schedule your service today!